Traditional Flight
The best way to make friends and share a unique experience is the group flight in a balloon with other participants.
The experinece includes: greetings, registration and pilot briefing; invitation to help with the inflation and deflation of the balloon; about one hour's flight in a balloon Balloon Team Italy ; traditional champagne toast afterlanding; recovery service to your original launch site.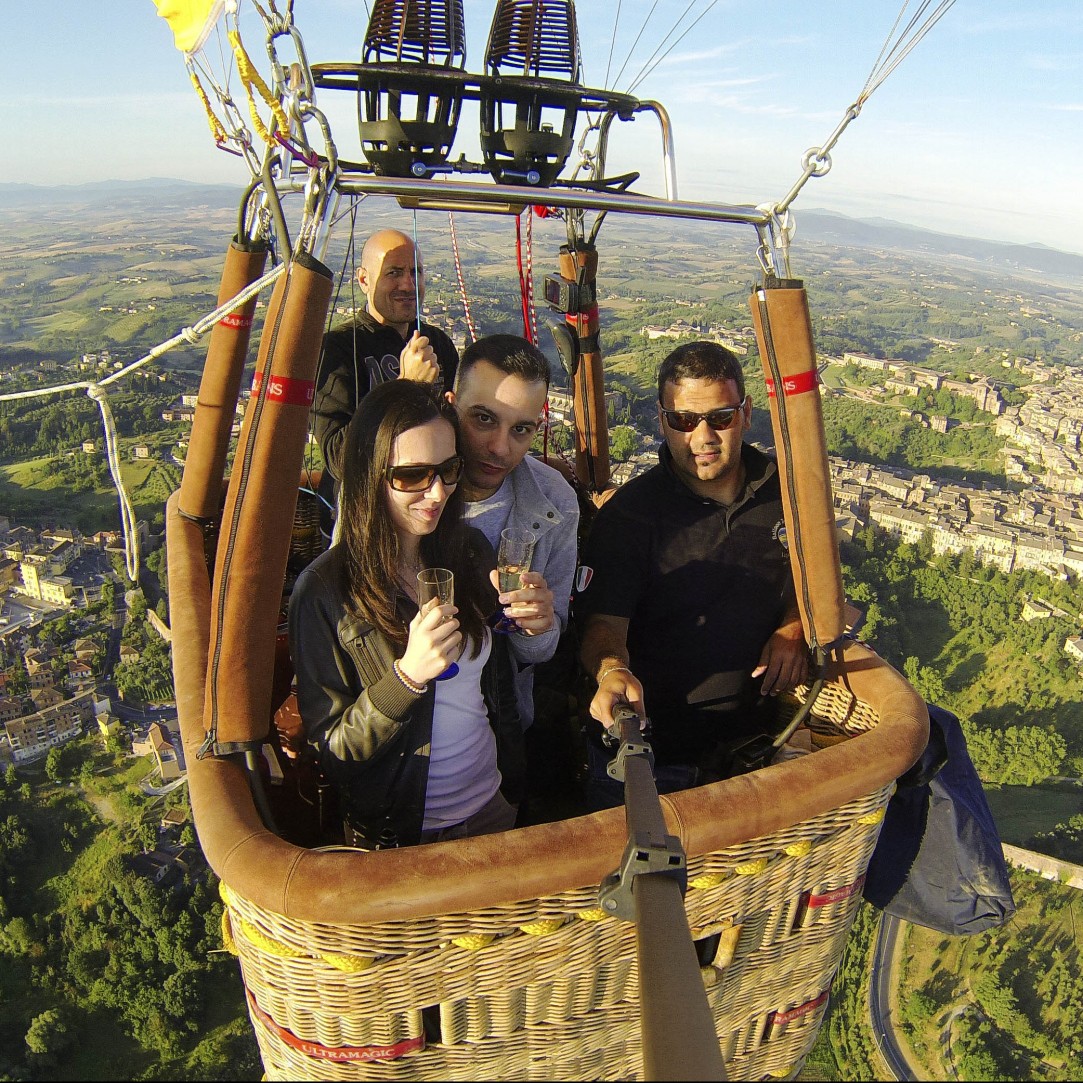 Exclusive / Private Flight
Is for two people, up to 5 people, for more persons, contact us.
This service lets you schedule dates at your leisure.
Our team will be dedicated exclusively to you for an unforgettable adventure.
The landing field, will be served a delicious breakfast with sparkling wine and Fruit Juice.
INFORMATION REQUIRED FOR RESERVATION
You can book your flight here. Please send us a message using the form to right.
Please provide this information:
- The name and surname
- Telephone contact
- e-mail address
- Preferred date of flight
- Alternative date if the weather condition is not good
- Number of Passengers
- Preferred type of private / group flight
- Accommodation name / location
is much better than we have so many contacts, we can better communicate with you.
If there is a cancellation due to fog, or the wind, the unfavorable weather conditions, our team needs to contact you.
If your flight is canceled due to the unfavorable weather conditions, we can reschedule the flight for the next day.
If this is not possible, the total ticket refund will be possible.
The proverb in Italian: Better "desire" to fly and not fly, that being in flight and "desire" to be on the ground.
If you have specific questions or other requests, you can send an e-mail balloonitaly@gmail.com
or mongolfiereitalia@gmail.com ,  Mobile phone (+39) 348 404 4117
( if you prefer you also accept text messages on mobile )
EXPERIENCES PRICES
Balloon ride Tuscany region, with Champagne breakfast € 250 per person

Balloon ride Rome area, with Champagne breakfast € 295 per person




Children under 11 receive a discount of € 50

Private flight Tuscany area from 2 to 5 people with Champagne breakfast € 1,250

Private flight zone Rome from 2 to 5 people with Champagne breakfast € 1,750
Note: if you like a private / personal flight you must contact our office with our e-mail.
Note : For group flights in the area of Rome, ask before the availability date.
Note : To pay by bank transfer, you can download the application form.