Hot air balloon ride in Tuscany
Have you ever experienced the incredible emotion of a hot air balloon ride in Tuscany?
If you want to try a hot air balloon ride in Tuscany you can do it great thanks to Balloon Team Italia. 
The magical sensation of hot air balloon ride in Tuscany is incomparable, just like the breathtaking views. With Balloon Team Italia you can fly all over Tuscan beauties. 
Everyone knows that flying is the dream of adults and children and we can achieve it. Imagine having the opportunity to admire the hills and the Tuscan villages from a different point of view that is the sky. What are you waiting? Live an incredible experience by booking a flight over wonders of Chianti and Florence. Remember that a hot air balloon ride in Tuscany will lift you up in every sense.
What to see
As was mantioned earlier, the Chianti region is popular because of its vineyard vines, olive groves and architecture that seems to have emerged from the earth. In other words it is an evocative landscape without doubt.
If you're ready to try this experience, go straight to the experts. Balloon Team Italia is leader in the field of balloon ride in Tuscany, operating since 1990.
We can fulfill your dream to admire Siena's iconic square, San Gimignano's towers and Florence's signature monuments. Our tours generally last from 45 to 70 minutes and can be reserved for couples, small groups or a mix of parties.
You can experience a balloon flight in Tuscany for a special occasion or just to live a unique emotion. With these tours, the sky is the only limits.
An unforgettable experience
Balloon Team Italia invites you to fly over medieval castles, historical villas, olive and vineyards groves in one of our balloon ride in Tuscany.
Everything happens quietly in a hot air balloon. Our flights starts early in the morning, when winds are calm and gentle. The flight duration can change depending upon the wind speed and direction.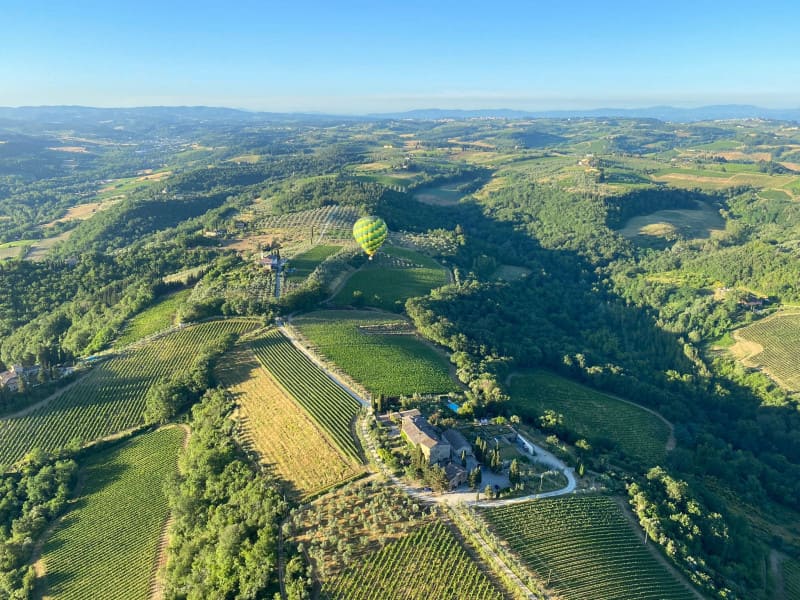 It's true that the winds dictate the direction, but the pilots can make navigation changes by changing altitudes to find varying winds. During the flight you can touch the 1500 feet above the ground. In addiction, we recommend to wear comfortable clothes and a good pair of shoes. Don't forget your cameras, given the fact that photographs and videos are always amazing!
Each balloon ride in Tuscany is a unique and magical voyage and hot air balloons capture you imagination turning into a must on your life experiences' list.
Tuscany is surely one of the main ballooning areas in Italy and the best place to fall in love with ballooning.
The most beautiful flight areas for a balloon ride in Tuscany
A balloon ride in Tuscany it's magic and fantastic because you can admire from above the evocative views of the region, for example:
1. Chianti
It's one of the most beautiful flight areas in Tuscany. Chianti is a hilly area known worldride for the production of wines extended between the provinces of Siena and Florence.
The landscape is characterized by the presence of vineyards, olive trees and villages with ancient castles. Among the peculiar villages you will notice, for example, San Gimignano, Monteriggioni, Siena, Colle di Val d'Elsa, Castellina in Chianti and Monteriggioni.
In addiction, group flights depart from this area and you can meet a lot of people.
2. Siena
Another among the most beautiful areas for a balloon ride in Tuscany is Siena. As well as the Chianti, also Siena is very appreciated in Italy. This province is famous for its hitstory and it extends in a large valley.
From this valley you can reach Montalcino, Cortona and the Trasimeno Lake.
From this area private flights of couples depart.
3. Florence
Imagine being able to admire from the sky the beauty and majesty of the city of Florence. The hot air balloon ride in Tuscany is surely unique and able to leave unforgettable memories and emotions.
Florence is known as the cradle of the Renaissance and is one of the most beautiful and evocative cities in Italy.
4. Lucca
Also Lucca's valley is very evocative and unique. It's known as "the city of a hundred churches", in fact, is characterized by towers, bell towers and Renaissance palaces.
During a balloon flight in Tuscany you will enjoy the view of the magneficent architecture of Lucca.
In conclusione, discover the magic of balloon ride in Tuscany relying on Balloon Team Italia.