Hot air balloon tour of Tuscany
Come to see the beauty of Tuscany from an exciting hot air balloon tour of Tuscany
Would you like to try out the experience of a hot air balloon tour of Tuscany?
In Tuscany, you can take walks along the medieval villages and visit the monumental works of the most famous Italian artists in the world, but you can also admire all the beauty of Tuscany from a different perspective by taking fantastic hot air balloon tour in Tuscany.
Take a hot air balloon ride is one of the most exciting and unique adventure you can experience in Tuscany. Through this flight low over the tuscan landscape you'll enjoy a breathtaking view of Tuscany's rolling hills, vineyards, olive groves and much more.
This magical adventure will take you deep into the heart of the Chianti wine region. You'll get to admire the landscapes of the green, breathtaking Chianti area. The hole experience could last from 45 to 70 minutes.
All flights start early in the morning due to stable air conditions, but take-off times can change with temperatures.
Before returning, a field to disembark will be chosen to have breakfast with typical Tuscan products and to chilling out in the middle of the Tuscany countryside.
You can choose the place you prefer to fly over between Siena, Chianti, San Gimignano or Lucca.
Ballooning in Siena
The depart of this flight tour is from the heart of Siena. From here, you will have the opportunity to fly over the Crete Senesi, Montalcino, Buonconvento, Montisi, Montepulciano up to the Val D'Orcia.
Ballooning in Chianti
This hot air balloons tour depart from San Casciano in Val di Pesa, in the heart of Chianti in the center of Tuscany, a few km from the center of Florence.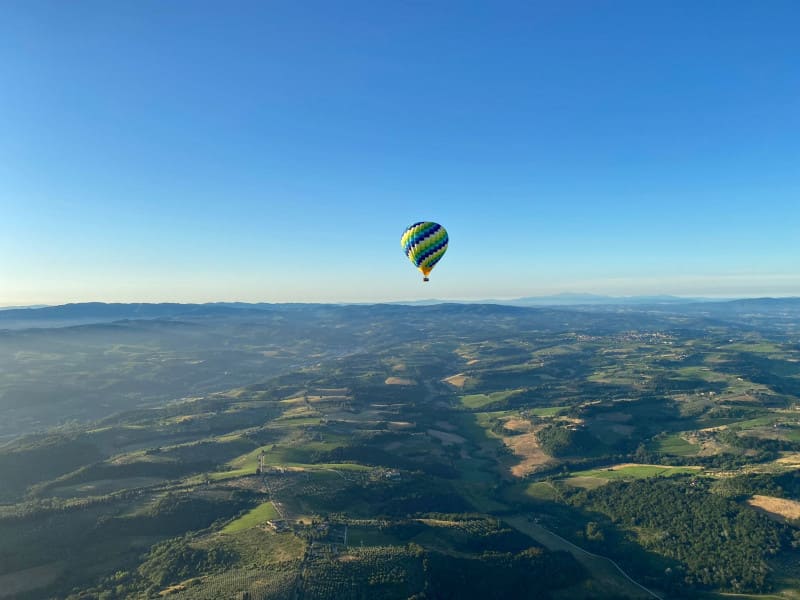 By taking this tour you could admire fantastic landscapes of the Tuscan hills and ancient villages like Poggibonsi, Siena, San Gimignano and Colle Val D'Elsa.
Ballooning in San Gimignano
If you choose the ballooning experience in San Gimignano, the launch sites are located near the center of Tuscany in the Chianti region, 20 minutes from the center of San Gimignano, along the Pesa valley.
From here, you will fly over the legendary landscape of Tuscany. It's characterized by hill towns, large valleys, but also famous vineyards such as Montalcino and Chianti.
On clear days in the distance, you can also see the Apennines and even the sea in Florence; Often it is possible to fly over the Elsa valley, Certaldo, Volterra.
Ballooning in Lucca
This ballooning experience depart from the Lucchese countryside. From the location of the launch site you will be able to admire fantastic landscapes, from the sea to the woods. In this ballooning experience you will flying all over Lucca and its unpublished landscapes.
An experience you can live with whoever you want
We have hot air balloons of different types and sizes, suitable for all needs and occasions, so you will be able to carry out this experience for a romantic and private flight with your partner, for a cozy family moment with family or with whoever you want to enjoy this fantastic adventure. A hot air balloon tour of Tuscany is a magical experience for everyone.
Our tours are set to live up to expectations of all the adventurous who want to explore flying under the sun of Tuscany in a hot air balloon.
A safe balloon flight throughout this aerial adventure
Flying in a hot air balloon is a very safe activity, and our pilots are all great flight masters and professionals.
We want to give you the greatest safety and comfort during the flight, so you will be in the company of our professional staff throughout your journey. They will be there for you to ensure the maximum safety you need, and to show you from above the whole geographical area of Tuscany with its main cities such as Siena, San Gimignano and Lucca.
Additionally, all of our hot air balloon tour packages have flight insurance included in order you can feel totally confident that you know all the details of the flight and its progress.
Don't miss out on this unforgettable experience and discover our hot air balloon flights in Tuscany. We are sure you will bring home the best memories of Tuscany's scenic beauty. The hot air balloon trip awaits you!