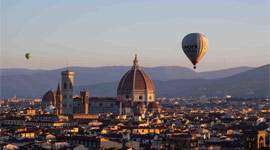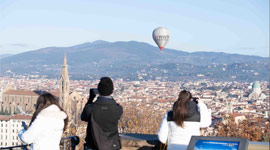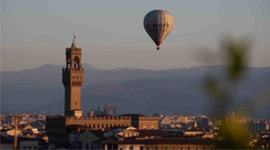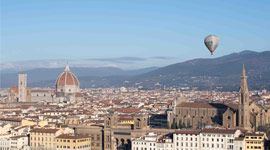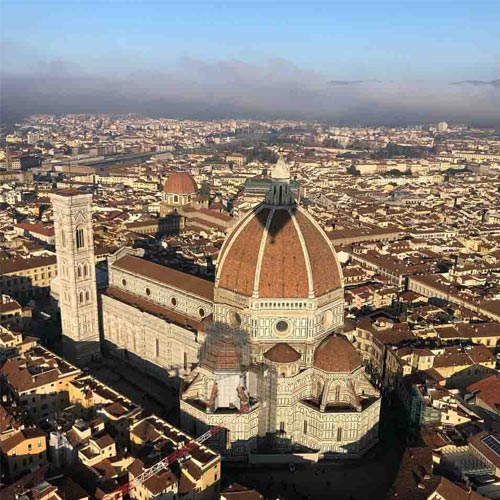 Ballooning in Florence
The Ballooning in Florence is a special flight because we must be lucky with the best weather. You must know that flying in a hot air balloon is always a great adventure. Indeed the direction is dictated by wind, and it is only nature that decides our direction. For this reason the flight over the city of Florence is not always possible.
Our take-offs from Florence must have a favorable climate and a particular wind. When it is not possible to take off from the city, the take-off field that is used is San Casciano Val di Pesa, very close.
Florence is one of the most historic city in Italy.  If you are passing through, we suggest a stop to visit it. But only after your hot air balloon flight over Florence. Your flight will be organized to offer you the best views and maximum safety. To guarantee this safety our company has great professional pilots.
What you will see
With ballooning in Florence we will fly over its center. You can see the Cathedral of Santa Maria Novella square, and the whole extent of the city. You can see also the Uffizi Gallery, Palazzo Vecchio, Ponte Vecchio, the Boboli gardens and many other famous places in Florence from above. The view it's really exciting and memorable. This is a beautiful area to fly and you will see enchanting hills, castles, vineyards, forestsbut also many wild animals.
We recommend this area every day of the year. We can arrange for you the transfer from your hotel.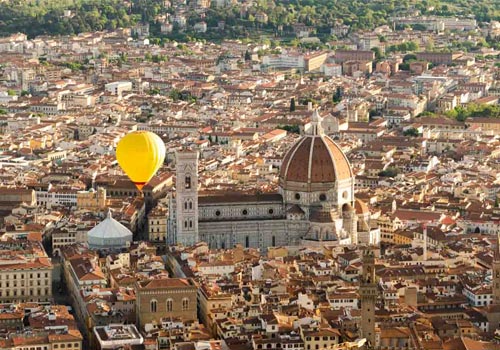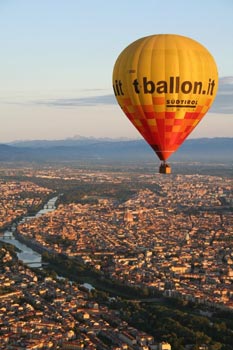 This experience is incredible in the first hours of dawn or at sunset with a total view of the world below you. You will surrounded by nature and silence with scenarios that can give unforgettable memories.
Witnessing the spectacle of the sun that gilds the monuments of the city of Florence, while the nature that surrounds it awakens is an extraordinary experience. Everything is even more exceptional if done from above, letting yourself be lulled by the air aboard a hot air balloon. If you want to experience this magical feeling, all you have to do is book a flight.
Flying is ever an emotion. Indeed thanks to our hot air balloon, flying over Florence will be one of the best memories you will take with you from your trip in Italy. We organize also Tuscan Wine Tours with our partners.
Other informations about Ballooning in Florence
The ballooning in Florence is very safe mean and, if you suffer from altitude, you will see that flying in a balloon is anything but scary or terrifying. In addition a balloon ride is surely more relaxing than a flight in an airplane. Since sudden movements never occur and the flight will be guided and accompanied by wind. In this way you will have all the time possible to take photos and videos in relax so as to immortalize this unique experience.