Hot air balloon rides over Siena
A hot air balloon ride over Siena is simply magic. In fact, one the most beautiful areas to fly over in a hot air balloon in Tuscany is certainly Siena. Just like Chianti, Siena is also one of the most appreciated hilly areas in Italy.
This province of Tuscany is famous for its history and its beauty. It whole historic centre, built around the Piazza del Campo and declared by UNESCO a World Heritage Site is witness to that.
Devised as a work of art that blends into the surrounding landscape, Siena is a real spectacle that is worth admiring in its entirety from above in a hot air balloon.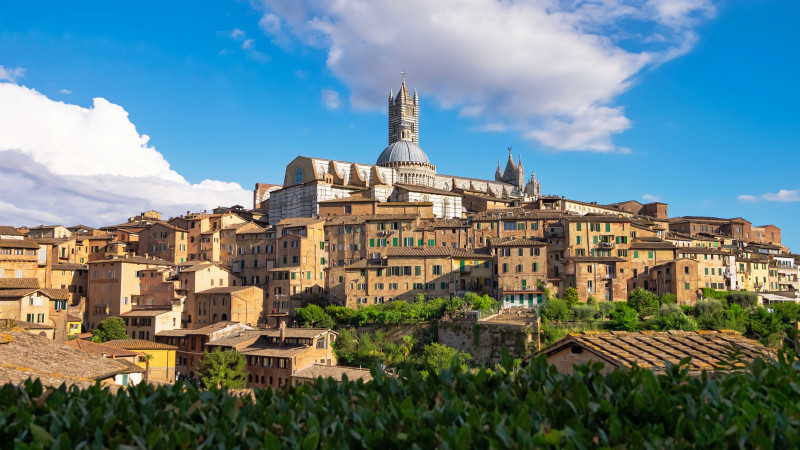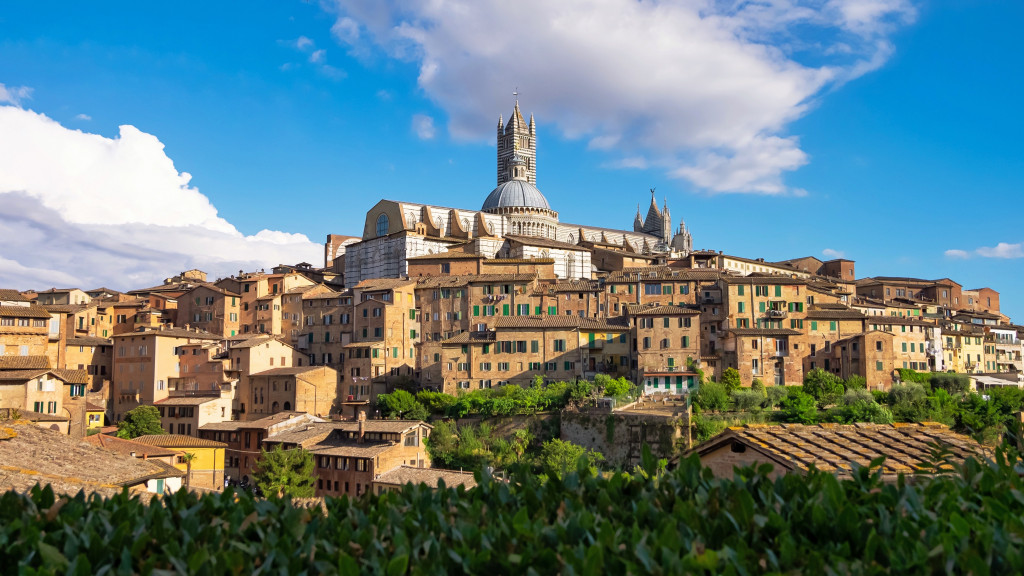 Balloon take-off locations
There are several launch fields near Siena from which we take-off depending on wind direction.
Usually, a hot air balloon ride over Siena starts at the balloon take-off locations immediately outside the city. This could be in the peripheral locations of Siena such as Taverne d'Arbia, the Crete Senesi, Buonconvento, Montalcino or Motepulciano.
Hot air balloon rides over Siena
One of the most fascinating tourist attractions you can find in Siena is hot air balloon rides.
Balloon flights are a total surprise. Indeed, everything you see through this adventure will depend largely on the weather conditions on the day of flight. If it's not so windy, it is possible to fly right over the city and its fascinating medieval buildings. However, if the air currents flow towards the north, you could admire the characteristic Chianti area with the view of Siena always in the background. Instead, if the air currents go south/south-east, then it will be possible to see the soft rolling hills of the Crete Senesi with the monumental Monte Amiata in the distance to the South.
In each case, fly the hot air balloons over Siena is always spectacular and unique experience. This because even when the wind currents do not allow to fly the balloons right over the centre of town, you will still get beautiful views of the city and the gentle rolling Crete Senesi in the distance.
What to expect
Our hot air balloon ride over Siena will allow you to admire for miles the breathtaking landscape of this wolderful city made of rolling hills dotted with pretty villages, cypress trees, castles, vineyards, olive groves and orchards.
After being greeted by the captain and crew, you will be given safety instructions. If you wish, you can help inflate the hot air balloon before boarding for your one-hour flight.
Once you land, you'll be able to toast the experience with a glass of sparkling wine and have breakfast in the Chianti countryside with typical Tuscan products.
You will then be taken back to the take-off area. If you wish, you can return to the center of Siena on your own or request a convenient drop-off service at your hotel.
How high does a hot air balloon fly over Siena?
Usually we travel at an altitude that depends mainly on the conformity of the terrain where we are flying and especially on the visibility.
To be more precise, the ideal hot air balloon trip is at an altitude ranging from 300 feet to 2500 feet (corresponding respectively to 100 meters and 800 meters).
When flying over built-up areas (as can happen when we fly over Siena, San Gimignano or the villages of the Tuscan Chianti region) we generally fly lower, and therefore at 300-400 feet (about 100 meters high).
Also the visibility due to light mist or cloudy weather can in some cases affect the altitude.
Hot air ballooning in Siena is an adventure not to be missed. So, what are you waiting for? Book your flight now and make your dream of flying come true.